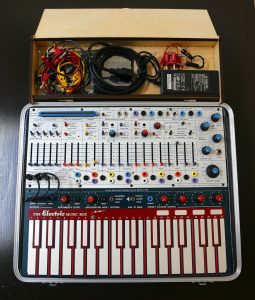 "Is there a more iconic representation of the playful experimentation of the West Coast Electronic Music Movement?
While Bob Moog was busy on the east coast with his MiniMoog, Morton Subotnick (Silver Apples Of The Moon) was making history with Don Buchla in San Fransisco, working together to create the Music Easel. They had seen a future of electronic music that involved exploring wild new sonic frontiers. But the main stream was not ready for blowing the rules of music wide open yet, and with the commercial success of Switched On Bach, the public had spoken. The East Coast practicality of the MiniMoog would prevail, and the rule breaking sounds of the West Coast Counter Culture would be confined to a small but passionate group of sonic pioneers.
I see the Mini Moog and the Music Easel as two sides of the same coin. They are both beautiful machines and iconic symbols in the history of electronic music.
The Details:
Purchased new on 7/06/15
Lightly and lovingly used minimally in my home studio.
Includes original reciept from Noise Bug, original Quick Start info card, original program cards and cables, and original accessory bag.
Shipped in original box." Click here to search for synths on eBay