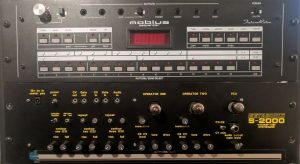 "Sad to see these go… By far the juiciest synth tones out there.
The Metasonix S-2000 is an early one, #22, and in perfect working condition. The brushed black aluminum gathers dust and fingerprints very easily, but the only wear is on the rack ears.
The Mobius has CV outputs for V/Oct and Hz/V and midi outputs and pairs perfectly with the S-2000. No visible cosmetic flaws.
The Mobius is discontinued but Future Retro are still operational.
Will not sell separately. Working adapters for both included. Thank you for looking, bid with confidence."
Click here to search for synths on eBay