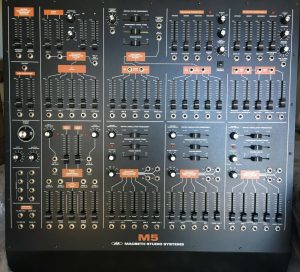 "For sale here is my Macbeth M5 all analogue semi-modular synth. A Rare + Modern Classic in Superb condition. After the main picture head on of the synth as a whole including upper & lower half in pics 2+3, the next 8 show each 'section' of the M5 in close up & the last with it under it's dust cover. Note that the face plate is in superb condition as pictured.
I am the Original Owner from new on production in 2006, as serial number on the rear will show to the buyer.
It has had only bedroom studio (non-smoking) use in that time and was kept under wraps (dust sheet) when not in use.
This is the Original M5 with the black & orange colour scheme, as used for the later version ARP 2600.
Note that whilst it 'looks' like a later model Rev.3 ARP2600, the M5's 'sound' is both Moog and Oberheim 'inspired'.
The original ARP 2600 (Blue Meanie model) that many/most claim sounds best of the 2600's, stole the Moog filter design of course, hence epoxy sealed units, lawsuit, 4072 ARP filter redesign, etc… Plus, the M5 actually dwarfs the 2600 in overall height + size. This M5 is one of around 90 (I think) of the original versions that were hand made between 2005/6, so only 13-14 years old compared with 35+ for a 2600.
As such it offers far more likely long term reliability and with great build quality courtesy of Ken McBeth. No tiny slider tops or mini jack sockets to fiddle with… On a practical note you can get multiple (man sized) finger tips between the slider tops for patching/mixing/modulation purposes. A joy to play with as you can easily see all patch points, sources, destinations, signal flow, etc.
As regards stability & tuning, many older analogue synths had & still do have problems with these factors. This M5 tunes very accurately and holds tune throughout every session, nor is this dependent on whether it's hot or not – inside or out, as was the downside of many old analogue synths, though it's appreciated some do like such instability… I prefer to start off with known stability & increase detuning/instability if/when needed. There is even a stability pot on Osc#3 for 'dialing in' that effect when required, except it's under your control and not at the mercy of other elements…" Click here to search for synths on eBay