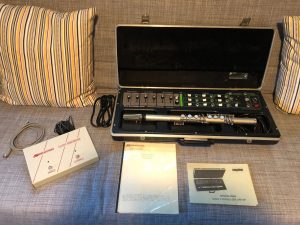 "Rare Computone Lyricon wind synthesizer-Driver fully restored!
Also included in this auction is a JL Cooper Electronics Midi Wind Driver!
I am the first and olny owner of this beautiful instrument, which is now 100% functional and was fully professionally restored and upgraded in April of this year 2018 to factory spec by David O'Brien. whom the instrument's inventor, Bill Bernardi, passed on his knowledge and stock of parts to when he passed.
The buyer will receive the repairs and the full upgrade specs that I received from Mr. O'Brien for your records.
Cosmetically, the panel and knobs look good, as shown in the pictures, the case is in good condition, and solid, the mouthpiece is a bit worn from use which is normal as I played this instrument quite often back in the 80's."
Click here to search for synths on eBay