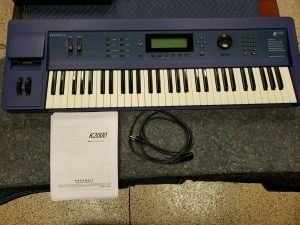 "Kurzweil K2000 VP Purple
Includes 500 page reprinted manual and Power cord.
Fully funtional, all key contacts recently cleaned, the key velocity and aftertouch are well balanced across the keys. Disk drive works (see photo's) Includes installed fan and the daughterboard with the Orchestral ROM.
Scarce Purple color not sure how many were made.
Running OS 3.54 Janis VX patches" Click here to search for synths on eBay