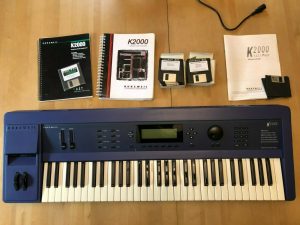 "Kurzweil K2000 VP w/ Orchestral ROM Purple.
Mint Condition Original Box, Manual. Condition is "Used" but Mint Condition.
This keyboard is absolutely pristine and has been sitting in storage in a sealed box for over 20 years. Not a ding or scratch to be fine. Keyboard powers up, boots and plays beautifully with that classic K2000 action still intact.
Kurzweil K2000 VP Purple
Includes Original: User Manual, Musicians Guide, Reference Guide, Factory Programs Disk, Box and Library of 20 floppy disks of the "Analog Collection for K2 Series"
Fully functional, all key contacts recently cleaned, the key velocity and aftertouch are well balanced across the keys. Disk drive works. Includes installed fan and the daughterboard with the Orchestral ROM.
Rare Purple color not sure how many were made.
Running OS 3.54 Janis VX patches" Click here to search for synths on eBay