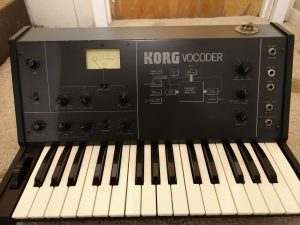 "You are bidding on a vintage Korg VC10 in moderately fair condition. I found this in a pawn shop basement. The bottom of the synthesizer has rust. I just had to buy it! Alas! My studio is overfull and my wife is angry! My loss is your gain.
I replaced some components on this machine to make it work. I tested it and everything works. It sounds lo-fi and angry, gritty and powerful. The ensemble effect works well. I love it! It sounds like analogue happiness.
It passes audio and does what it is supposed. It may need tuning and possibly a bias adjust. Keep this, the age, and the nature of the beast in mind when bidding.
Condition is Used. I will guarantee that it will arrive in the pictured condition. Other than that, and as with all vintage gear, no warranty is expressed or implied due to age."
Click here to search for synths on eBay