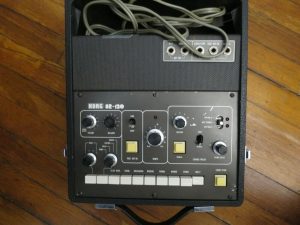 "This plays its sounds. All the buttons and patterns work.
There's static noise that also plays. It didn't do this a few years ago when it was in perfect health.
My guess is that one or more of the capacitors is dying or is dead. If you don't have the skills to know how to fix this, you'll have to take it to a shop.
There seems to be a lot of broken SR-120's showing up for sale and I think this is a standard issue. Capacitors tend to go after a few decades. You probably don't want pay a lot of money for one that is working correctly and hasn't been serviced because it will likely go wrong on you. If you're going to buy one, ask about when/how it's been serviced." Click here to visit listing on eBay