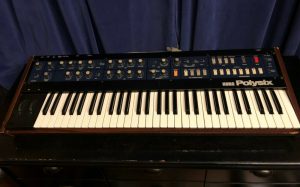 "USED Vintage Korg Polysix Synthesizer. Selling as is for PARTS / REPAIR due to age, cosmetic condition and the issues I know of.
I purchased this synth in the shape its in now, about 12 years ago. I had hoped to eventually have it refurbished but ultimately just used it occasionally, as is.
Synth powers up and is playable ( and sounds great – in my opinion! )
Keys and mod wheels work.
All knobs and switches in the "playable section" work well. (OUTPUT, TUNE, BEND, VCO, VCF, VCA, ARPEGGIATOR, MG, EG, EFFECTS & KEY ASSIGN MODE)
Known issues:
Volume knob is scratchy when adjusting – totally fine while set.
The program number 4 button stays lit and doesn't switch when pressed. You can still switch to the other programs.
I never messed with the tape functions so I cant speak to how well they work. However, the buttons do light.
The face of the synth has some marks, scratches and scuffs. The wood paneling has some scuffs, marks, scratches and chips. The area under the mod wheel has some wear marks." Click here to search for synths on eBay