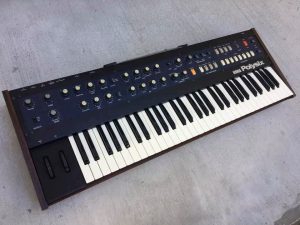 " Up for your consideration is a Korg Polysix in working order.
I am offering local pickup ONLY for this. I am in Anaheim, CA 92805. That's 40 minutes southeast of LA.
Cosmetically it is in pretty nice shape. (see pics)
I say working order, but it DOES HAVE TWO MINOR QUIRKS so please read carefully:
1: MG (aka LFO) has a half second delay before effecting pitch, amp or filter, even when LFO/MG delay is set to zero.
Pitch modulation works as normal if you use the mod wheel. Not sure why it does this.
2: Two keys (see last pic) are not responsive. You can take a shot at cleaning the key conatcts or replacing those key contacts. It didn't really bug me because it was only those two keys.
Aside from those two things, it sounds and looks beautiful. I did everything I could to make this synth work great again. Just a couple months ago, The KLM-367a board was replaced with a clone (NO MORE BATTERY ACID), and my tech went over the rest of the synth and repaired some outputs, fixed some grounding issues, replaced some fuses, and did some other minor things. I always keep my receipts for repairs, but I cannot for the LIFE of me remember where I put the receipt for the work I had done on this one… so I took lots of pictures of the inside so you can see what we did. Hope that helps!
Search Results
Web resul
Cosmetics:
Faux-wood sides have some dings, the right side has a couple little bites taken out of it, but it's not too noticeable. One of the inside hinges was replaced with a screw, and one screw that holds the mod wheel in place is missing, though it is still solid. I went to the hardware store and replaced the four bottom screws that attach the metal faceplate to the synth. " Click here to visit listing on eBay