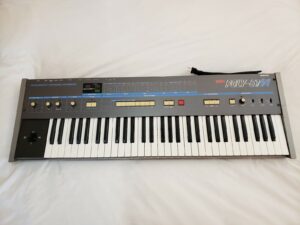 " Korg Poly 61M Vintage Analog Synth with MIDI Excellent working condition Nice!. Condition is "Seller refurbished"
Unlike many Poly 61s that are out there, this one is not all bashed up. The body is in great condition, with only a few minor nicks, and the synth is in very good working form. It has never had a battery leak, so all the functions work perfectly, and I did the following to it, to get it in top shape:
– I replaced the original battery with a CR2032, in a battery holder on a longer set of wires to make changing it easy.
– I totally refurbished the keyboard, cleaning all the keys, cleaning all the contacts, and adding carbon discs to the contacts, as per the solution by Sounddoctorin.com. That brings all the keys to perfect working condition.
– I removed all the tactile button switches and replaced them with brand new ones. That solves the annoying problem of having to keep hitting the program buttons many times until they work, or having them double count because of contact bounce. Now all the programming buttons work flawlessly. There is a photo showing the new switches(blue) on the two switch circuit boards.
– I cleaned all the pots to eliminate scratching noises and jumping values.
– I replaced any of the screws that were missing, and all the feet are there, too.
This is a really great sounding synth, with a pure analog voice signal, and very stable tuning thanks to the digital control of the oscillators. And with factory midi, it is just a dream to own. It is fully tested, and loaded with sounds from a file I downloaded onto my phone from the internet. There are lots of those out there, and it is easy to do. And of course, you can create and save your own sounds.
I have a good box for this, and I pack with great care, so it will travel well. Because it is a vintage item, I can't actually provide a warrantee, or give a refund if you find it not what you like. I ship only to the continental US (lower 48 states.)" Click here to search for synths on eBay