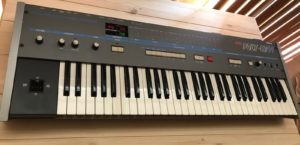 "Korg Poly 61M with a new battery (a genuine made-in-Germany Varta NiMh).
It is fully functional, all keys working, all switches responding, midi, tape interface working and factory programs loaded.
Cosmetic blemishes- slight edge damage on the right cheek shown. Still, among the nicest, I've seen, especially lately…
No calibration was needed- still at factory spec. All voices match. All original chips.
Please see all pics. All original screws/washers are intact, but several pics don't show them.
This is a very nice 61M and you will not be disappointed." Click here to search for synths on eBay