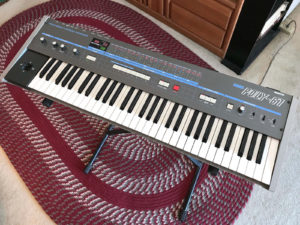 "1982 KORG Poly-61 Poly61 Vintage Analog Polyphonic Synthesizer Works! Roland Juno 60
The Korg Poly-61 is similar in features and sound to the Roland Juno 60. The Arpeggiator and Chord Memory are two of the coolest features. You can sync an analog drum machine that has a trigger out (like the Korg Rhythm 55 KR-55) to the arpeggiator for more fun.
This unit was a victim of battery leakage. It was professionally repaired and a new battery was installed.
Condition notes:
– Missing one screw (and its cam screw on the back side) of the top panel
– Back, bottom-right corner is broken off (see pictures)
– Dings and scrapes
– Some non-original bolts on bottom
Specs:
– 6 voice polyphony
– 2, digitally-controlled, oscillators (DCO) per voice
– 64 program memory locations
– Large LED display
– Fast, 8-second cassette tape interface (can be used with any sound source such as an MP3 file on your computer)
– Versatile arpeggiator with Latch Mode
– Chord Memory/Unison and Hold Modes
– Four-way joystick with separate LFO frequency
– Full-size, five octave keyboard (not velocity or pressure sensitive)"
Click here to search for synths on eBay