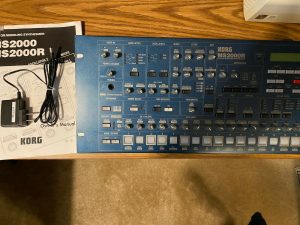 "Korg MS2000R – Good Condition Used w/ Power Adapter and Reprinted Manual. Condition is "Used".
Up for sale is a barely used MS2000R. It includes a 3rd party power adapter – a Jameco "Reliapro" which I purchased specifically for this synth. I am also including a printout of the manual.
The synth has barely been used while I owned it, so I've put very few hours on either it or the power adapter. As it has seen little use, I have not been able to full put this machine through its paces. I can confirm that it powers on and that none of its buttons or knobs seem to have any issues. The audio output is also clean.
Aside from some scratches to the paint and minor "rack rash" on the "wings" of the unit, it is in excellent shape. No dents or rust present." Click here to search for synths on eBay