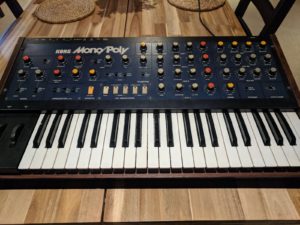 "If you're looking at this, I don't need to intimate how great this synth is – the modulation capabilities are unique (particularly with the LFO trick, which this unit performs easily – I will show you how, if you pick her up).
I apologise that the photos look like it's been taken in a 1970s opium den – I should have taken it to the kitchen for extra clinical, halogen-lit photos. [NEW PHOTOS ADDED!]
This works flawlessly. She retains the Japanese 110V supply, but I will provide a high quality transformer for UK voltage.
My house move forces this sale.
I have swapped knobs with the Korg mixer from the same series. It illustrates the architecture of the synth very well… If you want the original knobs back, I'll swap it back to standard (but I'm not the first to perform this swap)" Click here to search for synths on eBay