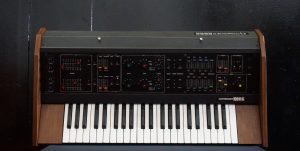 " This is a used unit.
This unit is in great condition for its age inside and out.
This unit has a small amount of wear and tear, for a synth from 1975 it is in very nice condition for its age.
All except one switch has its brightly coloured sticker and all text is bright and clear. Please see photos for more details.
This MaxiKorg 800DV has been serviced.
This included:
Deep clean throughout
Key contacts have been cleaned and enhanced
The power supply has been refurbished.
The switches and sliders have been cleaned, deoxidised and lubricated where necessary.
Tuned and calibrated to factory specifications.
This unit will ship with its original hard case which is in good condition for its age. It has a little wear which is to be expected. All hinges and latches function properly and are in tact. The latches have no keys.
This unit is 100V, please ensure you have the correct step-down transformer before powering on the synthesiser. If you are unsure about this or have any questions please feel free to send us a message. "
Click here to search for synths on eBay