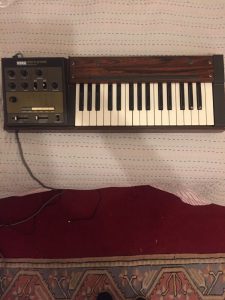 "Kork Micro Preset M-500 SP Analog Vintage Synth. Condition is Used.
From 1977, this is a very simple and fun synth, few of which can be found for sale.
An incredible bass sound for which it is best known, but also makes some wild lead sounds.
This more sought after models also includes the small built in speaker underneath.
Cosmetically good condition. Wood effect vinyl has a couple of bumps/nicks. One of the switches has at some point been replaced with some kind of metal lever (as seen in photos) functionality not effected.
In terms of functionality, a couple of the pots have the odd crackle when turned. Another idiosyncrasy I've noticed is that the first three banks seem a little quieter than the rest. Not sure if that's a common/normal thing. " Click here to search for synths on eBay