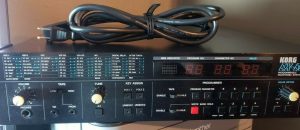 "Korg EX-8000 Rack Version of DW 8000 Vintage Synthesizer. Condition is Used and sold "As Is"
The unit powers on fine with new power cord, and all led's and numerical led's work. All buttons there, and working fine. No other testing done.
The unit has some scratches from rack use and bottom rubber feet missing. *****PLEASE NOTE: The rack brackets will be removed for packing purposes if needed but will be included and screws will be attached to unit to prevent loss.
This is the rack version of the DW 8000, a very influential synth. It can do PHAT mono leads, incredible FM-style bells, decent E-piano and organs and some truly outright weird stuff.
This is a vintage piece of gear manufactured in 1986. It is possible it may require maintenance, replacement of memory battery, cleaning of potentiometers and switches, and replacement of gel capacitors as they can dry out over time and require replacement. This is routine for older electronics, not expensive to do, and comes with the territory. No returns. No refunds. "
Click here to search for synths on eBay