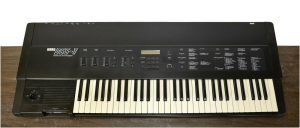 "Up to Auction: Korg DSS-1 12-bit polyphonic sampling synthesizer.
Rare, an excellent instrument with unique vintage sound.
For parts or project.
Unit is powering on and all buttons of the synthesizing part looks as working, display shows different assignment.
The keyboard does not have a sound output to the phones- just some noise when you depress the keys.
It has not been hooked to PA. No other tests were performed.
Cosmetically good- no noticeable scratches or dents, some discoloring.
For parts or project only!"
Click here to search for synths on eBay