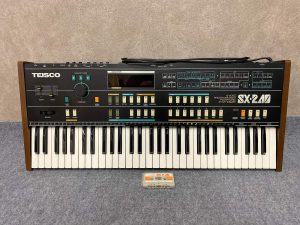 "This an 8 Voices/2DCO+ 1Sub OSC with a VCF section controlled by a VCF envelope, VCA section control by a VCA envelope.
A lot of modulation possibilities and and amazing ensemble effect.
This underated and underestimated synthesizer could be compared to a Jupiter 8 mixed with a Juno 6 in terms of sound possibilities.
This synthesizer is in excellent condition, almost flawless, it has the original Tape factory presets so that you can load the original sounds again.
It also has the Original soft case.
The Teisco SX-240 is fully working, have been cleaned and refurbished.
All the knobs have been cleaned and lubricated.
The keyboard has been cleaned, every keys are working correctly without double triggering.
The back-up battery has been changed before any damage or leak happens."
Click here to search for synths on eBay