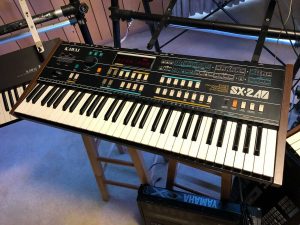 "Less that 950 of these were made, and even less exist today!
Tested and working good!
I acquired this synth many years ago and it has served me well in my studio.
It has never been out of my studio or gigged since I got it.
Has a new memory battery installed!
Has built in Polyphonic Sequencer which can record in real time or step write modes!
Has Split / layering / Dual modes!
Has Clock in/out jacks on the back + full MIDI in/out/thru and new TAUNTEK OS installed giving it full midi
capabilities including external CC control change and individual MIDI channel selection !
This means you can hook up a knob box or computer and control filters, envelopes etc!
It also allows for separate midi channels when using split mode!
8 Voice Polyphonic!
SSM Filters!
Decent used condition – See photos
Photos are of the actual synth you will receive!
I have owned this synth for several years, it has been in my studio since I got it, I am selling it because
I rarely use it and to raise money to buy the gear I want to add to my studio.
Give it a good home!" Click here to search for synths on eBay