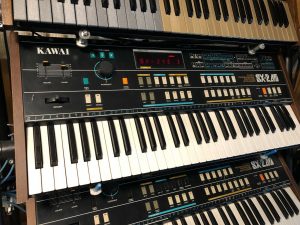 "Good working used Kawai SX-240 from my personal studio and collection.
Has Tauntek OS installed which gives many much needed abilities.
Built In sequencer, 2 DC) Analog synth with SSM FILTERS!
DUAL and LAYERING ability, 8 Voice Poly, 2 voice Multitimbral.
FSK Clock in / out , MIDI Clock, Internal / External sync to other gear.
Synth has new memory battery installed!
This synthesizer is vintage and sold as-is, it comes exactly as you see in the photos.
There is a noticeable scratch to the left of the pitch bender as well as other usual scuffs/scratches etc…
Its in very good shape for its age. (Made in 1984).
Buyer will also get a CDr (CD rom) disc which contains PDF copies of the Owners Manual, Service Manual, and copies of my SX-240 sound patch libraries."
Click here to search for synths on eBay