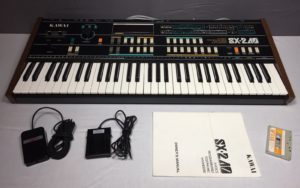 "Some quick background, this was purchased directly from the original owner who quite literally babied it all of its life. He used it very sparingly, and always kept it covered when not in use. If you look at the pictures you will be amazed at the cosmetic condition of this unit! Other than some tape reside on the back and side panel this unit is basically as close to mint as you will find anywhere!
I've cleaned all the contact pads inside the main board, and I've also lubed both fader knobs for extended life. Rear jacks were all coated with Deoxit Gold for improved contact and life as well.
I will admit that I am not a Synthesizer expert by any means, but I have a good working knowledge of the functions and how to use them. I hooked up some headphones to this unit and played around with it for a bit, everything seems to be in good working order, didn't notice any issues electronically. I'm not surprised by this because of the immaculate condition it was kept in by the original owner.
One thing I will note when I had the unit opened up is that it appears to have the original battery in it. It is highly recommended on older synthesizers such as this to have the stock batteries replaced as they tend to start leaking and losing efficiency over time. I will leave this up to the next owner. Vintage synthesizers do tend to require some upkeep and any person looking to own one should be aware of this when buying one.
Included with this are the original owner's manual, and an effects tape. Also including two pedals which were attached to this unit when it was purchased by me."
Click here to search for synths on eBay