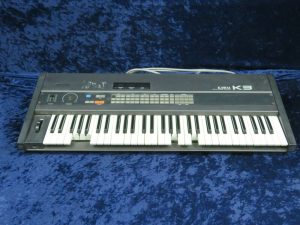 "Kawai K3 Digital Wave Memory Synthesizer Ser#101794 Functions with Broken Keys
Additional Info: The increment dial is missing its knob (not included) but it is still movable. The number 1 spot under OSC display covering is missing and just the button is exposed and it does still function (see pics). There are 5 keys broken off at the black key mark that still work (see pics). There is some light sticker residue near the digital display. The top plate is missing its screws so the plate does lift up and open (see pics screws not included).
Additional Information from General Search: Underrated 80s classic. 6 voice polysynth with 2 digital oscillators that lets you choose from any of 32 waveforms from traditional analog waveforms to complex waveforms for killer bells and choir timbres. Then route them through analog filters for that classic warm tone.
Overall Synthesizer Condition: Good" Click here to visit listing on eBay