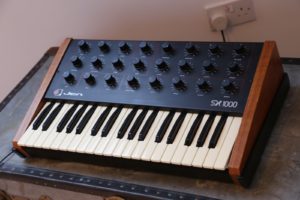 "Lovely little JEN SX1000 that has seen a major refurb to get it into really nice condition.
All the electrolytic capacitors have been replaced with new but most importantly all the horrible old crackly potentiometers have gone to be replaced by very high quality new items. None of the pots make any crackles anymore and the JEN works just how it should. New knobs have been fitted to match the new potentiometer spindles and a headphone amplifier has been added to allow practice without an amp.
The SX1000 was many peoples first synthesiser back in the early 80's and its sounds still hold a fond place in the hearts of many. They used to be everywhere but are getting increasingly hard to find these days.
Cosmetically this is clean and tidy but its does have age related knocks on the case and the lettering on frequency control have been rubbed away and the paint has needed touching up in that area." Click here to search for synths on eBay