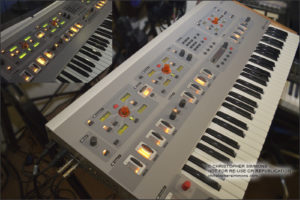 "* Superb shape; low hours, no issues with keyboard, knobs, buttons or controls, displays or audio outputs. Fully rebuilt from ground up. Original owner. Home use only. Never gigged, leased, rented, used in studio, or abused in any way.
* Couple of very minor barely-there nicks in the wood side and back panel simply from pulling on/off a keyboard stand over the years, but otherwise about as minty fresh as you can find. Lived its entire life in ONE room, so very well kept.
I am a long time synth guy, built up huge studio prior to 2010; started selling off some gear once I got sick. Downsizing to more compact "small setup" vs having the giant collector room of classic synth gear. Smoke free, pet free, home studio.
I am also one of the contributors to the Neuron survival guide document/PDF which has been around the past 10-12 years (Christopher Simmons of Neotrope®, my company name.) So, I'm very much a true Neuron fan/member of the owner community. Only selling for health reasons, to pay for some stuff I need to do to get healthy again; otherwise I'd never sell this." Click here to search for synths on eBay