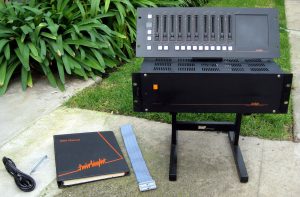 "(Note: The rain stopped for a while so I was able to do the quality outdoor photo layout you've come to expect from Synhouse since 1999 [and so many of those photos have been stolen all over the web]. Please disregard the compilation of some indoor photos taken during the testing and restoration work that I had first posted here, refresh your browser to see the new ones. If time permits, I'm going to have a Fairlight CMI [just CMI, the original and first one, not a II, IIX, IIIL, III…] auction containing all the difference parts between the original CMI and the IIX, $7,500.)
This is a very, very rare configuration of the Fairlight CVI (Computer Video Instrument) with the Fairlight Expansion Module CVI-06 .
Packing List
1) Mainframe electronics unit, serial number V 606 076, with the original black finish and orange graphic silkscreen, 110v NTSC version, has Astec 240v/
2) Fairlight Expansion Module CVI-06.
3) CVI Control Console with black finish. Truly excellent condition on this part, it needed almost no touchups, and has very, very little control surface wear. All slider caps and button caps are present, nothing is missing and nothing is worn.
4) 2 meter connecting cable.
5) Stylus pen.
6) USA IEC power cord.
7) Original Fairlight CVI manual in the original Fairlight binder. This is a sacrifice to let go of this one.
Again, please note that this is a USA 110v NTSC version. It is marked "NTSC" and is in very, very good restored cosmetic condition.
BTW, if the buyer wants a BUNCH of BNC video cables, or patch panels, or VTRs, or whatever, please inquire, I'm doing a major warehouse move and reorganization with a lot of things I don't want to have to move or restock.
This is the latest version with the latest boards (REV 4 motherboard) and the latest software that I am aware of (rev. 7 ROMs), and I believe this to be one of the last ones made (the mainframe is V 606 076 and the motherboard is serial number 1084). It was either made in early 1987 or made in mid to late 1986 and upgraded in 1987."
Click here to search for synths on eBay