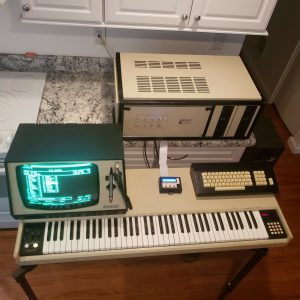 "I've decided to part with my my beloved Fairlight CMI Series IIX (w/midi) for Sale after owning it for over 20 years.
I've sold one other Fairlight IIX to Ko Okatate who services equipment in Japan at Modeless Factory years
ago and mentioned to me that "I made his Christmas" Once it was shipped and delivery to him in working
condition to Japan.
This particular Series IIX that I currently have for sale has a NEW original Light Pen. I believe it was apart of the last
few every every sold and manufactured by Information Control Corp. I have very very low hours for the over 20 years
that I have owned this Series IIX. I have recently Brought this Fairlight up to date to the current Millennium with the
Fairytale Interface which is a modified HxC controller that provides the computer driven logic for floppy disk communication
drive address selection and controller power. The controller emulates two 8" drives using removable SD cards as storage.
A few Sheena Easton disks, OS floppy's are Included if you want to use them in the right floppy drive.
The 8 inch floppy drives on these systems are useless as they will fail and it is not recommend storage or retrieval
of any system data these days." Click here to search for synths on eBay