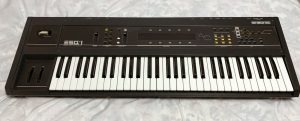 "Ensoniq ESQ-1 wave synthesizer. This unit was made in 1988. Analog/digital hybrid design combines digital waveforms and analog filters. Features include onboard sequencer, MIDI, multitimbral, ring mod, 61 keys, velocity sensitive, eight-note polyphonic. Power cable included, plus accessories.
Comes with the very rare Ensoniq CVP-1 volume pedal. Ordinary volume pedals do not work with this synthesizer. It requires this unique Ensoniq pedal, which is harder to find than the synth itself.
Also includes two cartridges. One is a ROM card with preset patches that cannot be overwritten. The other is a RAM card that can store your own patches. I currently have the RAM card and synth's internal memory filled with third party, analog-style patches. The synth's original factory preset patches can be easily found online and downloaded via MIDI.
Overall beautiful condition with only light wear. The only notable cosmetic flaw is a hole on the underside of one key (see picture). That has been there since I bought the synth in 2016 and it has never caused a problem or had any effect on the feel of the key while playing. The key is fully functional and responds just like all the other keys. It would be simple to install a replacement key sometime in the future when it is time to change the battery. The synth will probably be due for a battery change in the next year or so. That would be a good time to also replace the key." Click here to visit listing on eBay