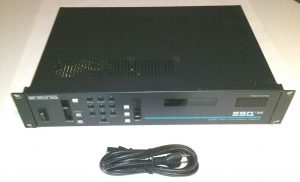 "ENSONIQ SQ80-M (Professionally Modded ESQ-M) Power Supply Recapped w/ Audio Grade Capacitors!
This was originally an ESQ-M but has been modified with the "ESQ-M to SQ80-M Conversion Kit" and "Future Proofed" by upgrading all of the power supply electrolytic capacitors with audio grade capacitors by a professional synth tech! The internal battery has also been replaced. The unit worked perfectly before and all functions have been tested after the modification and capacitor upgrade.
No functional issues, no exceptions.
The case does have some rack rash as well as the rack ears but nothing that affects the functionality.
The sale includes the SQ80-M and a standard power cable." Click here to search for synths on eBay