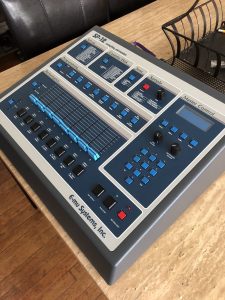 "For your consideration is a restored and modified SP-12 Turbo in very nice cosmetic shape with very few imperfections (see photos).
Restoration & mod work as follows:
-LCD removed, inverter removed (lowers SP noise floor).
-Installed Noritake Blue VFD display with custom mounting (see powered on photo). Allows viewing angle from any angle up to a few feet away. Superior to LED.
-Custom sky blue rubberized fader caps.
-Volume, Metronome, and Sample knobs replaced with brand new knobs.
-All buttons and fader housings pulled apart and cleaned inside before reassembly. All buttons work with 1 gentle button press now. (*drum pad 5 requires being pressed a bit harder than the others but is fully functional)." Click here to visit listing on eBay