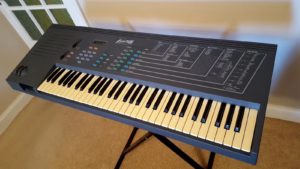 "Here I have for sale is my EMAX HD Digital Sampling Keyboard.
This is a 12 bit sampler which operates via a built in hard disk drive. It takes 3.5 inch diskettes which load further sounds. It followed on from the famous Emulator II.
I have owned this keyboard for many years and, desipte it never having been gigged, the old girl is no longer functioning as she should.
The keyboard boots up as it should but the hard disk appears noisy (which it always has done since purchase) but it won't load any of my disks.
I'm stuck on grand piano and am struggling to get any other sounds. This might be a quick and easy repair but I do not have the money to have it repaired, nor the expertise to do it myself, so alas it has to go.
It is in great cosmetic condition for its age except for the keys, which have yellowed through age, so if anyone can make it work they will have a great keyboard.
I will include all original diskettes as part of the sale as follows:-
Combined Strings (Gold series), Mystery Synth (Gold series), Electric Base (Gold series), FM Synth No: 1 Synclavier, Prophet 5, PPG Space Church, Roland JX10 & R-8, Roland D50 Digital Native/Heaven/Bell Reverb – DRK/Fantasy Calliope, Korg M1 Universe & Pick Base, Roland U20 Atmosphere & Sacred Tree, Marcato Strings, D.K.Strings, Ethereal Stuff, Multi Track Synth, Atmospheres, Synth Guitar Warm Pad/Spiral Glow, Linn Drum Sounds Archive 1, Electronic Percussion, Roland CR78 & TR-808, Gong/Timpani/Voice, DSP No: 1 Lazerimbas, Karen Finlay, NRG 4, Toys We 'R'.
I am selling this for parts or repair as these boards are old and you don't see many of these around so parts are hard to find." Click here to search for synths on eBay