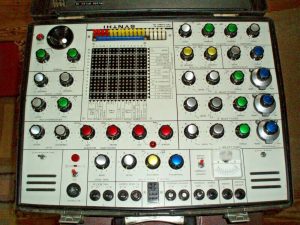 "My husband purchased this EMS SYNTHI AKS in 1972 and consistently used it in his piano studio until 2004.
It has been kept in this studio, dry clean condition in its case but has not been used since 2004.
This auction includes the complete original gear which has never been modified.
Included is the original case, the internal synthesizer as pictured, a touch keyboard, keyboard interface cable, power cable,
a complete set of pins as shown in the picture.
He has not used it since 2004 so decided to sell it. He plugged it in and it powers up, but could not get a sound output."
Click here to search for synths on eBay