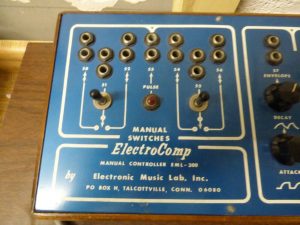 "Vintage 1970's ElectroComp EML-300 blue face controller unit.
The ElectroComp 300 from EML is a controller unit with a basic synthesizer, sequencer keyboard with numeric buttons and control knobs.
The 300 is divided in 3 sections. On the left is a switch patch panel. the mid section has a VCO with envelope generator, and the right side has 16 numerical buttons that trigger notes as an alternative to a keyboard.
The 300 needs to be used with one of the EML models such as the 200 or 400 models. It draws it's power from the connected model. EML offered the unit as an alternative to using a keyboard with their modules.
Overall in good shape, it does have scratches on the wood casing, mostly on the back, sides and corners.
I did have them checked out, and had the necessary repairs\cleaning done to make them functional.
The unit was cleaned and tested. All the jacks, connections, and potenciometers were cleaned and checked.(Per the repair technician)" Click here to visit listing on eBay