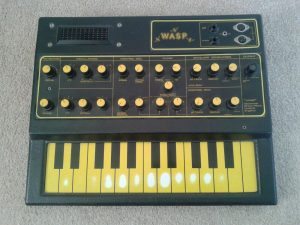 "Hi,
This is an auction for an Electric Dream Plant Wasp Synthesiser.
I used this a lot in the late 70's and early 80's but it got superseded by the Roland SH101.
I haven't used this for years and it has been stored in my house.
When I plugged it in it just made a hum noise.
The top of the on/off volume knob is missing, these are very cheap on Ebay.
This can be used with batteries or mains and has an inbuilt speaker.
Revolutionary touch sensitive keyboard, great for sliding up the keys.
Earth shaking bass lines came out of this machine and was best in conjunction with the matching Spider Sequencer.
I am having a studio clear out due to an impending house move." Click here to search for synths on eBay