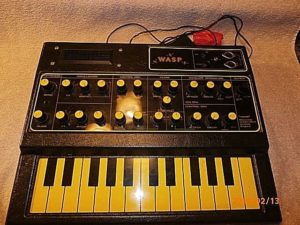 "This is a super rare find and it is in very good condition. We had this checked out at Encore Music in Auburn California and when we opened the case he was silent (and he is an older musician).
There are some issues with the cord (at the end) but it does work. Simple/easy/cheap fix if you wanted to replace it.
There is also a small separation on the plastic edge. Drop of glue would fix that.
Comes with case (THAT, I don't think is original but it fits perfectly!" Click here to search for synths on eBay