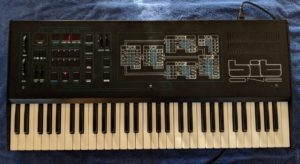 "Only 200 of these SSM Bit Ones manufactured! Warm SSM Filters!
Italo Disco Powerhouse
Bit One analog Synthesizer – Made in Italy – Vintage 80s -RARE
Some great features:
Velocity Sensitivity (adjustable)
6 Voices with SSM2044 Lowpass Filters
Bitimbral
MIDI Capable In/Thru
Very programmable synth with control assignable to many parameters
All 63 of the Original factory sound patches have been loaded. The patches are good, but far more interesting bass, FX, detuned brass, sounds are possible with some programming knowledge.
Please see the excellent demos on YouTube and see how this sounds better than Juno 106/60 which are nice, but very done (by everyone).
Please note for US Customers, this unit requires a 220V Power Supply or a Step Down Transformer.
Judge for yourself and buy wisely…" Click here to search for synths on eBay