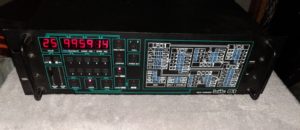 "Bit 01 Rackmount Analog (DCO) Synthesizer – Made in Italy – Vintage 80s -RARE
This is the expander unit for the Crumar Bit One, or a standalone synth.
Cosmetic Condtion:
Near-Mint. No major scratches. This unit does not have a silver sticker with Serial Number. The post for the Upper Volume slider has broken off, but is an easy fix.
Physical Condition:
Power supply was recently repaired, and brand NEW CEM3328 low-pass filters installed. Patches have been loaded, and unit is ready to rock. Recently serviced in 2018 by Bruce B of East Bay Analog Repair in Oakland.
Some great features:
Velocity Sensitive (adjustable Attack Velocity)
6 Voices with CEM3328 low-pass Filters
Full SYSEX MIDI Capable with MIDI In/Thru
Very programmable synth with control assignable to many parameters
Bi-timbral capability
All 99 of the Original factory sound patches have been loaded. The patches in the Bit01 are different than those inthe Bit One keyboard, to allow for more range of complementary sounds.
Strengths: Piano/organ, bass (think Juno 60), de-tuned brass, sounds are possible with some programming knowledge.
Weaknesses: Strings" Click here to search for synths on eBay