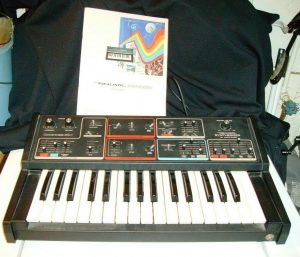 "I had this tested & the salesman said it's not quite right.
Shout out to Kevin at C. A. House Music St Clairsville OH.
It powered up & played but I recall him saying something about a crossover slide.
I don't remember all the tech lingo he mentioned but all the keys worked anyway.
The case is near perfect, no damage, missing parts or yellowing to the knobs.
Heck! I didn't even see a scratch.
It may be something simple cause it's in such fine shape?
Comes with the inst manual printed in 4/82.
Sold as-is with no returns." Click here to visit listing on eBay