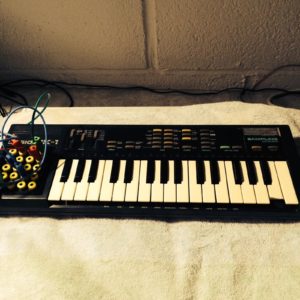 "Very versatile well built and bent vintage Casio
. Great for experimental or electronic music. You can get a lot of different patterns & glitches from the patch bay ..If you have never used one ..no fear! the simple explanation is use a banana cable and patch. Go for it no wrong way . I'll throw in a couple cables to get you going.
To use this synth you will need banana cables ,and a Boss style 9v power supply.The builder pulled the speaker and added a 20 point banana plug patchbay. 1/4″ output jack And 9v input .
As you patch the points together it glitches out Sending the SK-1 OFF COURSE .Without patching it will work as a stock SK-1. Not so pretty but it really is a unique monster ! The reset button does not work so well so I just shut it off if reset is needed. " Click here to search for synths on eBay