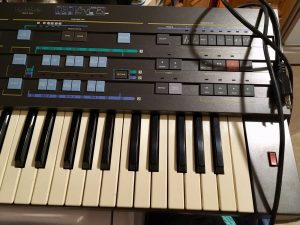 "CZ 5000 polyphonic Casio
Phase distortion synthesizer,
works (Used)
8 Track sequencer
8 stage envelopes on the patches midi
phase distortion synthesizers produced by Casio in the mid-1980s.
Eight models of CZ synthesizers were release.
wheel.
CZ-5000 Edit
The CZ-5000 synthesizer was almost identical to the CZ-3000, but had a built in 8 track sequencer. In most other regards, it was virtually identical to the other CZ series synthesizers.
There's some rust on the back looks good on the front " Click here to search for synths on eBay