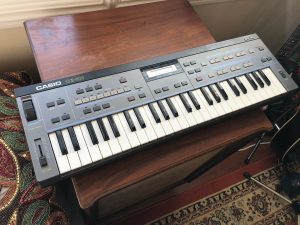 "Vintage Casio CZ-101 Phase Distortion Synthesizer -TESTED. Condition is Used.
I am second owner. My uncle originally owned. Lovingly kept indoors it's entire life. A unique opportunity to own an amazing condition CZ-101. The 80's soundscape!! Authentic.
This is a great keyboard. Analog and FAT sound. Shape sound to whatever you desire.
Portable, the KEYTAR with knobs on side for guitar strap, see pictures.
A great lead synth with smaller keys to really be fast.
Everything works great (one black key comes up, but still works, look at pictures).
**No power supply***" Click here to visit listing on eBay