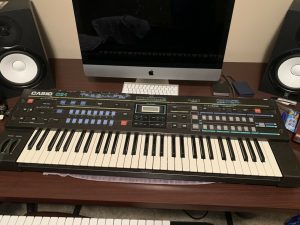 "Hello, you are bidding on a great playing and great sounding Casio CZ-1 Keyboard.
It is in very Good condition. Normal scratches from normal use.
This Casio CZ-1 was made in Japan.
The overall condition is Good to Very Good
The Key Bed is Superb and there are no cracks, no loose, cracked, burned or broken keys.
The graphics are very Clean concise and very nice. All of the light indicators work as they should." Click here to search for synths on eBay