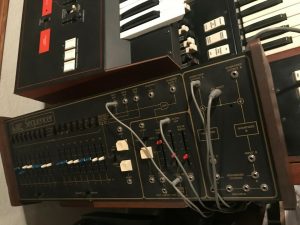 "Behold a vintage synth classic! This is an ARP Sequencer Model 1613, and chances are you already know what it is and what it does or you wouldn't be looking. The ARP Sequencer was so cool, these days it's getting cloned!
This is a little like the synth version of the classic car field's "barn find," except it was NOT ever stored in a barn or outside or in a shed…no, this all original unit has been stored in a safe hobbyist home studio environment, smoke free, since it was purchased from its first owner in 1981. After that it mostly sat on an Ultimate Support rack and for the last ten years on a shelf.
Model 1613
Serial Number 16130253 (0253)
Included: Original User Manual
US power cord built in
The good news is that this is not a "Lazarus Project." The unit powers up and clearly it works. Tested with a "drifty" ARP Axxe and Arturia Microbrute. I can "step" through a sequence and hear the connected synth's sound. However, there are some minor problems – for instance, I believe the slider contacts need cleaning. When stepping through the sequence, you get the same tone no matter where the sliders are located (maybe I've forgotten something!). All the LEDs light up and blink perfectly in sequence and random mode, with one exception – I think the Clock LED is out. All the slider caps are present and accounted for. There are NO broken sliders or loose jacks.
Physically, the unit is in outstanding shape for its age. There are a few scratches on the bottom panel, there is a small ding on the lower front (not the operation panel), and there are some weird pry marks underneath (see photos). There is an inch-long scrape on one wooden side panel. It's missing 3 of the 4 rubber feet. That's pretty much it on the negatives.
A good cleaning under the hood should revive this cool piece of synthesizer history. I hate parting with it, but I would love to know it's headed to a loving new home where it can make music once again. I have no doubt that a tech-minded collector, hobbyist, or pro will be thrilled with this piece of ARP synth history. Selling AS IS with no returns."
Click here to search for synths on eBay