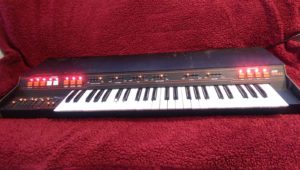 "I'm selling my 1970's vintage analog string/polyphonic synthesizer – the ARP OMNI II. If you are familiar with The Cars "Good Times Roll" or Joy Division "Love Will Tear Us Apart" you know the legendary sounds the OMNI II is capable of.
This unit was fully serviced and electronically restored by Synth Chaser in San Diego, CA. Nathan is one of America's foremost experts on ARP OMNI repair (as well as other vintage synths) – and posts videos of his repair and restoration work (including this one) on Youtube.
Besides all the work done to bring this synth back to original ARP 100% glory I also had the optional 4075 filter upgrade done, as well as the SynthChaser Orange LED slider kit installed. Very helpful seeing all the slider settings onstage, having the sliders move easily. Plus having light-up LEDs that match the ARP color scheme looks cool.
As you can imagine, this unit sounds amazing – haunting and period correct.
Here is the rundown of this Omni II and what was done:
ARP OMNI 2 S/N #24734115 (OMNI II)
All polarized capacitors recapped – 106 caps total.
SynthChaser Orange LED precision slider kit upgrade.
Key bed refurbished: buss bar cleaned, key contacts adjusted, key bed leveled, bushing kit installed.
Switch board troubleshooting and repair. XLR jacks replaced.
Optional 4075 Voltage Controlled Filter Enhancement & recap performed
Two switches replaced.
All LED's replaced to provide uniform brightness.
Keys removed, cleaned and leveled.
Synthesizer calibrated to factory specification.
Comes with vintage road case." Click here to search for synths on eBay