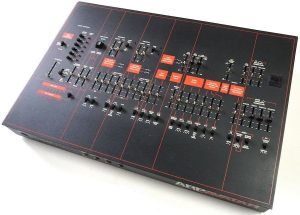 "Very rare ARP AVATAR analog guitar synthesizer module 1977
very few made also ARP's last synthesizer.
AVATAR is basically an ARP Odyssey synth with guitar interface,
but it has SYNTH INTERFACE CV IN/OUT,GATE IN/OUT,TRIG IN/OUT
so you can control AVATAR from your synth or sequencer.
I just checked that the power turned on,did not check all other function
so I'll sell it as a broken item need repair.
ARP AVATAR is used condition and seems need repair
red power light is turn on but main output selector's green light is not light up
many slider cap are missing and some slider are hard to move smoothly.
2 hinges of backside are bended." Click here to search for synths on eBay