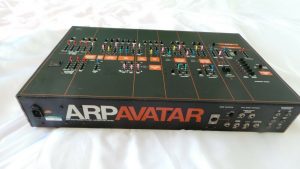 "VINTAGE CLASSIC ARP AVATAR ANALOGUE SYNTHESIZER SYNTH KEYBOARD
100% FULL WORKING ORDER
All knobs, switches, LED's work / function as they should with NO, nasty hidden surprises.
As the photographs illustrate, this Arp Avatar has been modified!
The modification was skilfully carried out by James Walker (formerly Synth Repair Services).
Everybody is searching for that elusive MOOG SOUNDING FILTER that resides in very few of the early Black and Gold Arp Odysseys, a few Black and Gold Arp Axxes, but in abundance in the very early Arp Prosoloists … well here it is along with the 4075 filter. James fitted the equivalent of the 4034/4035.
So now you have 2 real vintage Arp Odysseys in one !!!" Click here to search for synths on eBay