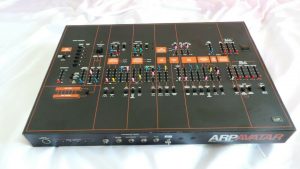 "VINTAGE CLASSIC ARP AVATAR ANALOGUE SYNTHESIZER SYNTH KEYBOARD
100% FULL WORKING ORDER
All knobs, switches, LED's work / function as they should with NO, nasty hidden surprises.
As the photographs illustrate, this Arp Avatar has been modified!
The modification was skilfully carried out by James Walker (formerly Synth Repair Services).
Everybody is searching for that elusive MOOG SOUNDING FILTER that resides in very few of the early Black and Gold Arp Odysseys, a few Black and Gold Arp Axxes, but in abundance in the very early Arp Prosoloists … well here it is along with the 4075 filter. James fitted the equivalent of the 4034/4035.
So now you have 2 real vintage Arp Odysseys in one !!!
You no longer need to dream and lust after the Black face Odyssey, Black face Arp Axxe, or the early Prosoloist … All of the above resides in this box !!!
A stroke of genius by James.
There is an expression Arp Bite. Man, this thing bites, stings, growls, purrs, curses, chews and then spits you out. The only Synth as angry is the Multimoog and the Octave Cat.
This box / synth is filled with love, beautiful colours, pink and orange sunsets, violence, rage, scorpion stings, bees, nettles, tulips, dandelions, tornados, grenades, kittens, puppies, and Mercedes from Hollyoaks !!! Lol
If all the above is your cup of vodka then don't miss out on this Avatar
Remember, an Avatar is 100% an Arp Odyssey with the in" Click here to search for synths on eBay