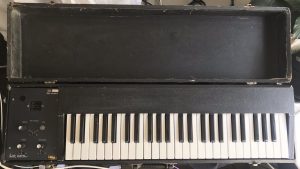 "This is for sale an Arp 3604-P keyboard controller and and a 2600 Arp service manual.
I was negotiating to buy a 2600 Synthesiser last year to use it with though the negotiating fell through after I bought this and am left with it, so am letting it go as I do not intend to look for a 2600 in the foreseeable future.
It was given service a month ago by a local repair tech who gave it a internal clean and check.
I have no way to test it's intended functions without a 2600 unit and if your looking at using it as such it would be necessary for an appropriate tech to calibrate it with the Synthesiser, and check it as it's a 70s machine. There is no cable for connecting the 3604-P to the 2600. As such the listing is parts not working." Click here to visit listing on eBay