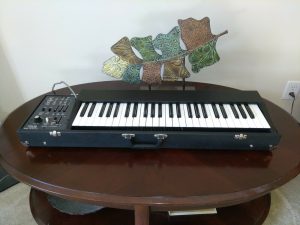 "Rare opportunity
ARP 2600 model 3620 keyboard by itself, with two foot switch pedals (modified aftermarket).
Must See to Appreciate – Pics don't do it justice
Zero corrosion on nickel surfaces, including fasteners
Flawless lustrous tolex
Mirror polished scratch-free keytops
New zinc plating on key levers – no corrosion
All keys leveled and aligned and even
New Teflon key bushings
New clear silicone key stops
Zero key clicks, ticks, clacks, squeaks, stickiness, or sluggishness
No mushiness. Key depression and release are crisp with just the
right amount of bounce for a synth action keyboard.
Side to side key play is crisp with definitive stops.
Fully reconditioned potentiometers. Sliders and knob glide like butter
Bus bars and wipers fully disassembled and polished
All key timings adjusted and tested
All jack contacts polished and tested
All voltages freshly calibrated
Imperfections that don't show up in pics: Some micro-pitting on the handle flanges – only visible from two inches away, otherwise looks bright. Two 2 mm touch-ups on upper edge of control panel – not visible unless you know where they are.
One owner from 1983 to present.
These were only ever sold with the synthesizer.
If you have a 2600 with the older 3604P keyboard and wished you had the 3620, or you have a TTSH and want a real ARP 2600 advanced keyboard, now is your chance."
Click here to search for synths on eBay